Beat Sheet for Mac Last Updated
24 March 2023
by Michael Forrest
Plan & Run Better Shows
Live Streams • Video Production • Zoom Calls • Lesson Plans
Beat Sheet is the cornerstone of your live video workflow on Mac.
Turn your talking points into a simple sequence
Reduces mental overhead when you are on-camera
Add simple titles and graphics
Runs your teleprompter
Navigate with your keyboard, mouse or Stream Deck
Pros can easily navigate complex shows that use many Ecamm Live, mimoLive or OBS scenes
What is a beat sheet?
A "beat sheet" is an outline for a show.
If you're running a live stream with guests and graphics, or you need a way to structure your Zoom lessons or video shoots, a beat sheet is a great way to prepare.
Beat Sheet gives you a simple editor to plan out your segments. Plan and iterate until you're ready to go live or shoot another take.
Beat Sheet is your Producer
It's tough to be a show host when you're also the camera operator, sound engineer, producer, director, teleprompter operator and the person responsible for titles, graphics and transitions, ready to roll VT.
With Beat Sheet, you don't have to juggle all this in your head.
With a finger on the "next" button, you can breeze through your show with confidence.
Titles and graphics
Beat Sheet is much more than a text editor.
Add titles and graphics to your segments, and when you press "play" these graphics are sent directly into your streaming software over NDI or Syphon.
With the free Video Pencil Camera app you can use this in your Zoom and Teams calls and QuickTime recordings. No need for OBS or Ecamm!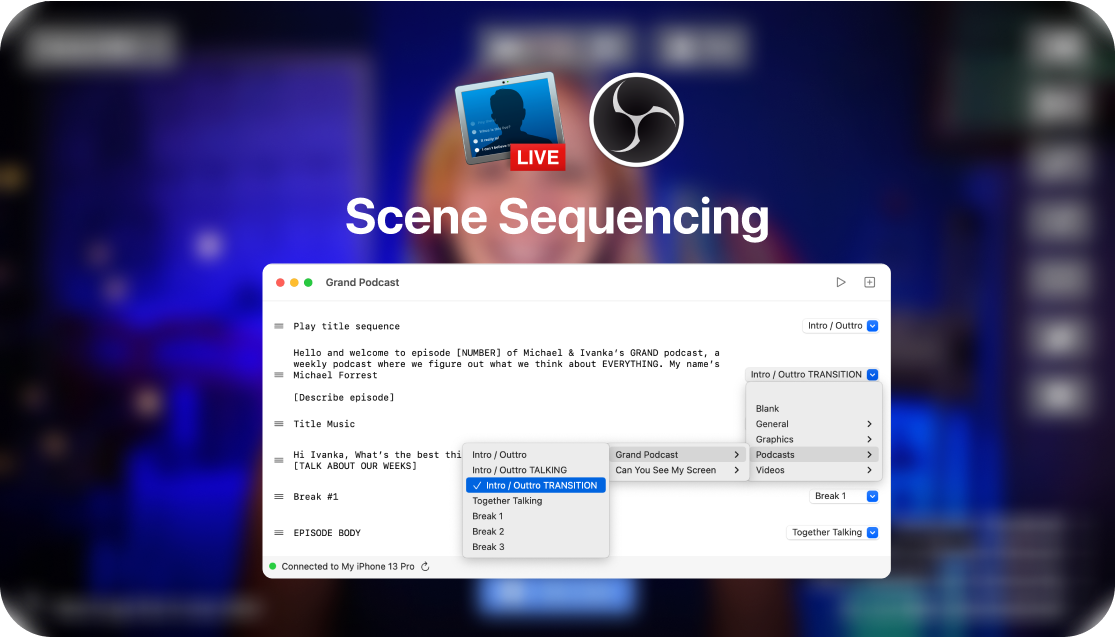 Power your teleprompter
A teleprompter is more than just a way to remember your lines. It lets you maintain eye contact with your camera lens, so your conversations more personal and your presentations more trustworthy.
With Shoot Pro Webcam your text will appear on your iPhone's screen with no additional hardware
Or download Beat Sheet HUD to place directly into your hardware teleprompter
If you have an external display in your teleprompter, Beat Sheet gives you a transparent window which can float on top of your other previews.
Beat Sheet is integrated
You don't need a mouse in your hand to use Beat Sheet.
Use the bundled plugin to navigate from your Stream Deck
Integrate with anything else on your Mac with a set of Shortcuts actions
QuickLook and Thumbnail previews make it easy to find your documents
Beat Sheet intelligently handles scripts from Notes, Google Docs, Word and Final Draft Pro
With "Copy All" you can export an entire document in one go
Getting started
Beat Sheet gives you a template library to get started.
Testimonials
Beat Sheet has enabled me to produce my video podcast in a fraction of the time it used to take. All without having to hire a producer! This is essential software for anyone producing content using Ecamm Live -Reagan Rose - Redeeming Productivity
Available now!
You can find out if Beat Sheet suits your workflow for free.