Use your iPhone as a webcam
Camera • Telestrator • Teleprompter • Remote Control
Already using Shoot? Check out the Shoot Guides and User Manual or use Shoot Studio
Connect to your Mac or PC over HDMI, AirPlay, NDI® or USB (Mac only)
Full control over exposure, focus, white balance, camera selection
Built-in telestrator allows lets you draw on live video
Remote control with your  Watch or any web browser
Built-in teleprompter for use with Beat Sheet
Detailed settings for all your webcam needs
Shoot is used thousands of times every month for everything from live music, DJ sets, podcasts, gaming and webinars, to church services, in classrooms, for sports, art, crafting, and even bingo, magic shows, puppet shows and drag shows.
Why use your phone as a webcam?
On calls, videos and live streams, a good camera will set you apart. Most people use a terrible laptop webcam!
Better video can make people take you more seriously.
And you can place your phone exactly where you want it and take full control of the picture.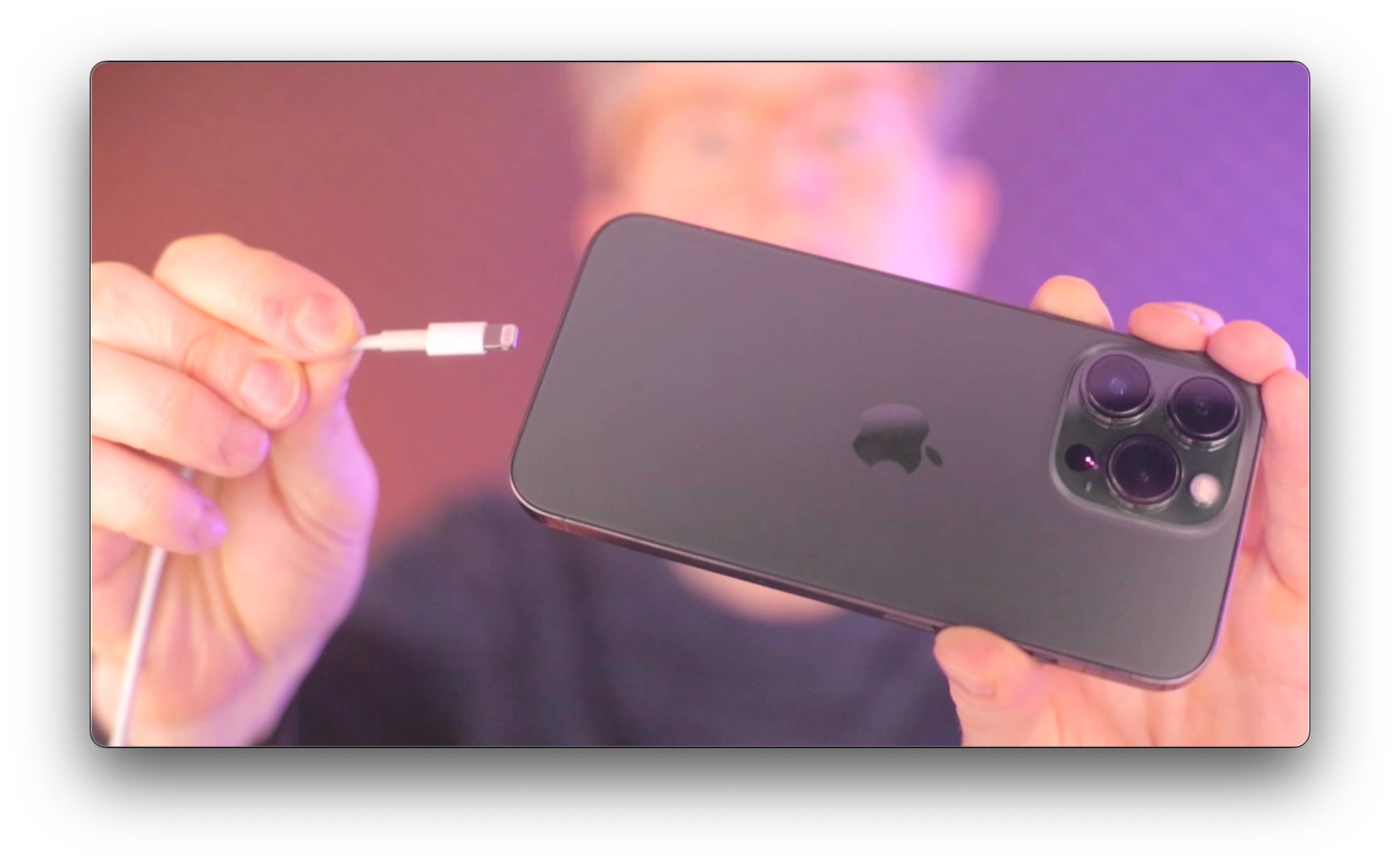 Is it easy to set up?
The simplest way to use Shoot is to download the webcam driver for mac.
But the real power of Shoot is its flexibility and control. You can connect over USB, HDMI, AirPlay or NDI, integrating with Ecamm Live, OBS or other desktop streaming software, on Mac or PC.
With so many options, help is at hand!
---
Basic features
Adjust everything
Getting the perfect picture requires control.
Shoot lets you control every setting you'll need.
Select different cameras, set your exposure, white balance, focus and shutter speed for the perfect picture.
Resurrect old devices
Shoot works on iOS 12, letting you use your 2013 iPhone 6!
This can give an old phone a second lease of life, even if it has a broken screen.
This is great for multi-camera set-ups where you might want another angle or two.
---
Remote Control
Web browser interface
Shoot connects in real-time to squares.tv, allowing you to control your camera from any web browser.
So when you're phone's out of reach you can still adjust your picture to perfection.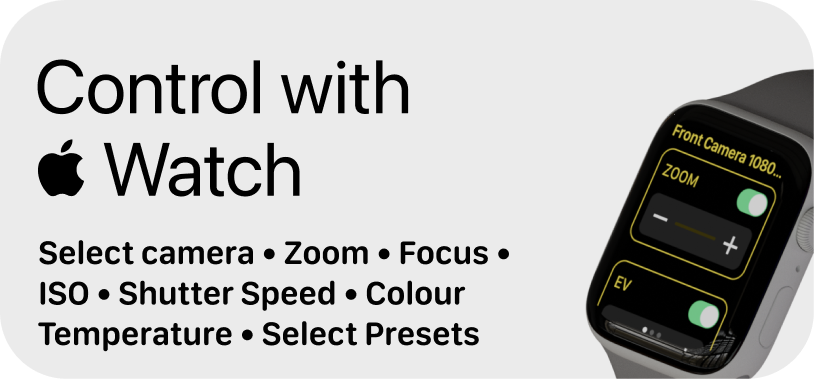 Use your  Watch
You don't need to fire up a web browser if you have your watch on.
You can control all the same settings from your wrist.
---
Telestrator
Draw on anything
This is where things really get interesting.
Shoot lets you draw directly on your camera feed.
Now your iPhone or iPad isn't just a webcam, it's a telestrator.
Live Titles
Live Titles let you add text to Shoot's telestrator.
Just draw a line where you want the text to appear and speak.
This feature was invented for Shoot but it's in Video Pencil too.
---
Teleprompter
Read your script
If you have a script, a teleprompter saves you learning it off by heart.
Shoot works with your Mac to give you a teleprompter built right into your phone.
---
Pro Essentials
Bonus features
Get even more out of Shoot with the "Pro Essentials" bundle, giving you access to an expanding selection of useful enhancements like grids, phone mic access, NDI output, Stream Deck support and more.
Testimonials, Reviews & Demos
"My favorite all-purpose camera app" - Alex Lindsay (Office Hours Global, MacBreak Weekly - 16 Feb 2022 Pick of the Week)
@michaelforrest thank you for your camera app, it's amazing. - Alexandra Botez (@botezlive - Aug 03, 2021)
Demo by Aaron Parecki (Mar 28, 2023)
More value and functionality than any of its competitors I've tried ★★★★★ My go to app for features like WB (manual or auto) with calibration lock, ISO lock, Ev lock, SS lock, Focus lock, Zoom lock. Each individually, partially, or collectively selectable. Unlike its competitors, Shoot app gives me FULL control over each aspect of the camera's behavior. A truly deserving 5 stars. - a-ctut - Dec 1, 2022 (App Store review)
Packed with features ★★★★★ This is the app I've been looking for, literally for years. I just want a clean feed from my iPhone camera on another device. There are other apps that will do this, but to my knowledge this is the only one that can do it wirelessly and in 4K. In addition, this app is being continuously developed and improved in 2021, unlike other similar apps which have been left to slowly rot. If you're only going to get one paid app like this, this is the one to get! - SatisfiedCustom-er - Dec 3, 2021 (App Store review
how easy and smooth this runs ★★★★★ I wish I have found this earlier. It is the smoothest webcam app I have so far - moribana – Sep 27, 2022 (App Store review)
#livestreaming peeps ! Get on this #iPhone #app. I use the Shoot Clean Camera app for all my #twitch livestreams. It turns the iPhone into a clean-feed, HD web-cam, far superior than a standard webcam, and comparable to the quality of a decent DSLR/Lens https://t.co/y2EDIXrS7g

— paul dakeyne (@paul_dakeyne) August 19, 2021
Here's a hack for those using Zoom for #MessyChurch or making craft. An cheap app will turn your plugged-in iPhone into a clean camera feed which you can share in Zoom just like you'd share a screen. No need to hold bits up to the webcam. I use Shoot https://t.co/hwHkudlhr7 pic.twitter.com/A56CluwvjL

— Jon J Marlow (@jjmarlow) May 24, 2020
I met Michael through using his incredible iPhone camera app for streaming. He's incredibly talented and motivated, makes incredible music and is always working on something new.

I was absolutely honoured when he asked me to do a wee interview about my experiences on Twitch! https://t.co/ZrRlzYxHK2

— Jof! (@Jofamo) August 5, 2021
ついに見つけた…!画面にカメラ映像だけが出るアプリ!!!ズームもできれば最強だが致し方ない◎
Good To Hear「Shoot - Clean Camera Feed for Mirroring」 https://t.co/8Od6YklucQ

— fumi𓁿(FumiyaMurakami) (@fumi_238) November 12, 2016
"Essential app for educators - Best app for my use case, streaming a clean HDMI feed from my iPad Pro into a Blackmagic Design Atem Mini as a webcam in zoom meetings. Only app that can also turn off the display while streaming video through the USB port to save battery. Developer is super responsive and friendly!" - 0301chris
"The best app to turn your iPhone into a webcam by far!" - Talks Of Our Time Podcast